A semi-automatic capsule filling machine NW-SA300 for hard gelatin capsules with 300 holes to produce up to 6000-8000 capsules per hour.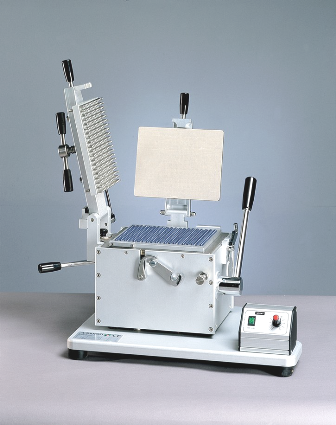 The machine is equipped with 300-capsule filling trays, which are normally supplied for processing a single capsule type; accessories for permitting processing of other types of capsules are available on request. NW-SA300 is supplied complete with a powder-compacting device and an electromagnetic vibrator for ensuring uniform distribution of the material inside the capsules; an accessory for inserting small tablets or other solid bodies in the capsules is available on request. All the accessories are quick and easy to install.
Features:
– Thanks to its small size, it can be installed in any location.
– Suitable for capsules from "000" to "5" and all DB Caps sizes. The procedure for changing format is extremely simple and quick.
– Dosage is accurate and within the limits set by international pharmaceutical standards.
– The machine can be cleaned easily and quickly and the accessories coming in contact with the powders can be removed extremely easily, thus facilitating the operators' daily maintenance.
Technical specification:
* Output per hour: 6000 – 8000 capsules in relation to the product
* Capsules processed: from "000" to "5" and DB Caps
* Filling tray: 300 capsule capacity
* Dimensions: 350x490x470 mm
* Net Weight: 40 kg
* Electrical Power Supply: 110 or 230 V; single phase 50/60 Hz
* Noise (dB ): <80
In case of product or technical inquiry please contact our company on +49 (0) 69 8900 4008 or at info@n-wissen.de