We are pleased to present a new and improved range of Astell autoclaves,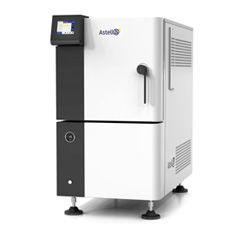 available in various sizes from small 33 litre benchtop to large 1400 litre free-standing cabinets, and with options of top and front loading configurations.
Every autoclave features Astell's Logi Control system, a new controller unit boasting a 5.7 inch colour touch-screen display which contains the programme cycles, user settings and help menus on a simple-to-navigate interface, making for quick and easy cycle selection.
For more information or to receive a quote, please contact N-Wissen GmbH as the exclusive representative of Astell Scientific in DACH-region (Germany, Austria and Switzerland) on +49 (0) 69 8900 4008 or at info@n-wissen.de.