With our portable density and concentration meter DA-130N you can measure density or alcohol consentration just in few seconds in the laboratory and on-the-go in the production site or warehouse for incoming or final products.
Main features and advantages: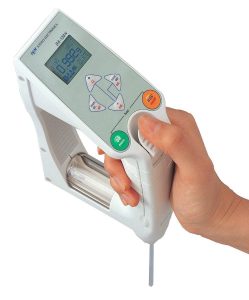 Light, robust and accurate handheld instrument

Density measuring range: 0.0000 to 2.0000 g/cm3 with accuracy

±0.001g/cm3

Capable of measuring samples of up to 2000 mPa·s of viscosity.

The display shows density, temperature compensated density, specific gravity, temperature compensated specific gravity, Brix %, alcohol concentration, sulfuric acid concentration, API degree, Baume degree, Plato and Proof degree and the like.

Measurement of alcohol or extract concentration of beer, whisky, wine, etc. is possible.

Only 2 ml of sample required.

Compliant with ASTM D7777 for liquid petroleum products (crude oil, fuel oil and lubricant oil)

Limited exclusive offer from N-Wissen GmbH: buy now only for 1.100,00 EUR with delivery time of 1-2 days.
For more information please visit our website or contact us directly at info@n-wissen.de or +49 (0) 69 8900 4008.