N-Wissen GmbH introduces the new generation of already very well known YYK series autoclaves amoung our customers across the whole Europe.
These autoclaves are used for high-efficient dispersing (purging) the residual air bubbles in cell panels after polarizer aligning process in LCD production. By applying uniform pressure while heating work piece in chamber, it not only removes bubbles but also increases adhesive strength in an instant.
It can also crush bubbles entrained during resin-molding of electronic components by pressurization and cure the resin by heating.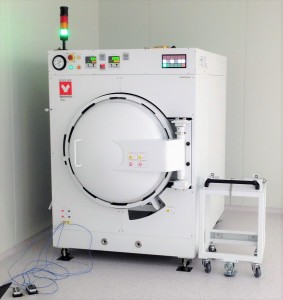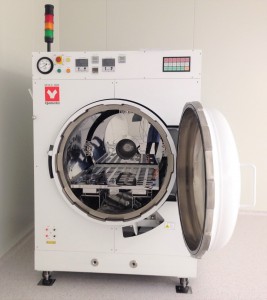 Technical Specifications:
* Effective inner size: upon customers´ requirements; most common φ750×1200 L mm and φ900×1200 L mm
* Operating pressure: 0.5 Mpa (standard) or optionally 0.7-0.9 Mpa
* Operating temperature: 50-80°C or up to 200-220°C (high-temperature autoclaves)
Main features:
1. Suitable for ISO 5 / Class 100 Environments
2. High efficiency in air bubbles removal and improving the final product quality
3. Temperature uniformity
4. Fully automatic control
5. Easy and safe operation
6. Wide range of models from small capacity (R&D type) to a large-capacity (production type)
We offer design, manufacturing, sale and after-sales service for the small- or large-capacity autoclaves and customized autoclaves. Please contact us for more information by phone +49 (0) 69 8900 4008 or at info@n-wissen.de.