N-Wissen GmbH presents new generation of high qality inert DN serie ovens:
Suitable for curing process in no oxidation environment;
Suitable for heat insulation test and curing process up to 360°C;
Simple operation by interactive key input;
N2 gas flow amount controllable.
Operation monitor visualizes controller status, temp and temp. changing;
Incorporates with maximum 99 steps, 99 patterns program controller with repeat function;
Temp rise curve:
N2 gas subtitution performance curve: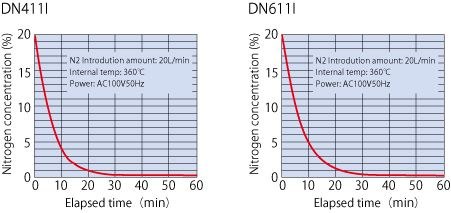 For more information and technical support please contact our company on +49 (0) 69 8900 4008 or at info@n-wissen.de.